| | | | | |
| --- | --- | --- | --- | --- |
| [ | mood | | | content | ] |
so it started off when me and corey went up there...
we got dropped off at the place, and found out what was going on. it turns out that the club doesnt serve food, doesnt allow re-entry, AND holds 7 hour events. so we went to get some food, we came back and went in the place.
the place is tiny, but a really nice venue, i liked it ALOT.
the first band to play were the Sweet Kings. they were a pretty good band, i liked how they changed up their style alot from slow to in-your-face punk. you can check them out here: http://www.sweetkings.com/
in between the sweet kings and the second band (atleast i think this is when it happened, but it might have been during the sweet kings when i went out there), i went out and looked at the merch booths. mitchy b (of the cohorts) comes up and starts talkin to me and stuff. and than hands me a cd signed by the bands members!!!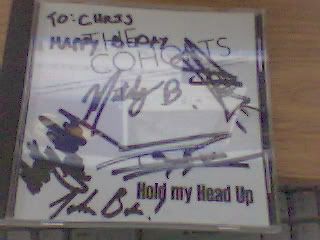 it says " To: Chris. Happy B-Day" with the signatures. isnt that just the nicest thing!
they (the cohorts) were the second band to come up. they never fail to put on a good show. i got a setlist but i forgot where i put it... :-\. everyone in orlando seeemed to like them too, they had quite a dance pit goin on. check them out! http://www.myspace.com/thecohorts
third band was a SKACORE band called Insufficiant (check spelling) Numbers. they were the biggest supprise of the evening. they were just so good!!!! you HAVE to listen to them! http://www.insufficientnumbers.com/
4th band of the day was The Go Aways. this Female fronted ska/poppunk band were good, but the bassist was definatelly the best bass player i have ever heard. fo real! he owns matt freeman. from his solos to him playing chords to him playing slap bass to him just playing his regular lines. he amazed me! http://www.thego-aways.com/
5th band was The Corks. They reminded me of Big D, but with a worse singer. and they only played for like 15-20 minutes. http://www.thecorks.com/
number 6 were Skif Dank, a 4-piece, 14 year old (like me!) band of dreadlock-wearing ska/punk musicians. they reminded me of LTJ (losing streak era, put with more punk). they only had 1 horn player, he played trombone. they threw out some shirts and stickers, but i failed to catch anything :-(. http://members.aol.com/xskifdankx/
Number 7 was I VOTED FOR KODOS!!!! they were a bit of a dissapoinment though :-\ (dont get me wrong they were still awesome). since they have just recentley had line-up changes they only played a few old songs and a few new songs, and only had 5 members who switched off of instruments, but they still played 'my other G/F said i have to leave you", "pastaroni", "you never asked me to" and a hand ful of new songs, that were good. oh, and did i forget to mention that to finish there set they played "SHE HATES SKA!!!!" oh snap! that was probably the best part of the night, i dont care what i said previously in this story... http://www.iv4k.com/
fourth time seeing the know how, and it was the worse time. they, too, were still good, but some uncontrolable stuff happened to them. EX: sound guy being an Arse and not putting up the moog synthesizer volume, having new horn players, and having the singer lose his voice in the middle of the set. but check it... once skyler lost his voice, they had "karoake time!" thats right, they invited people on stage to sing!!!! i was too nervous, and wasnt sure if i knew all the words to a song, so i didnt go up, but this kid went up and sang "selfish", and another kid came up and sang "daniel larusso is gonna fight!" and skyle was just giving the mic to people in the crowd, one of them being me! it really sucks that he lost his voice for this show, because i was looking at the setlist and they were gonna play some of my favorite songs that i had never heard live... o and for my help he gave me this: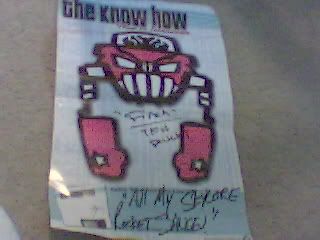 thats right! an autographed poster! they were only selling them for 2 bucks, so it isnt that big of a deal, but it was still nice seeing as i didnt do much. o and the kid that actually went up on stage got a free shirt! niec guys! http://www.theknowhow.com/
last band of the evening were the SUPERVILLAINS! despite how zach feels about them, i like them, alot! i admit they do go a little out of hand with the whole drug thing, but they are still fun. they played such classics like "mary jane and jagermeister", "nazi stomp" (my fav!), "robots in purgatory!", "car secks (get it on)", "snow white", "oi's to the hood" and a few more that im missin... http://www.thesupervillains.net/
so i left orlando a happy kid! and one with tons of stickers...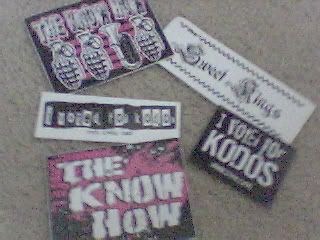 theres PLENTY more where that came from